Honeycomb Strain Review | Dewey Cannabis
Honeycomb Strain Review | Dewey Cannabis
Honeycomb by Dewey Cannabis is a cross between DoSiDo and Original Glue #4 that provides an uplifting cerebral high and some full-body relaxation to keep you balanced and ready for whatever your day or evening has in store. With this cultivar, Dewey continues to impress with their unique in-house phenotypes, flavorful terpenes, and significant entourage effects with each strain. Honeycomb is one of those great "wake and bake" cultivars, but it is also great for going out in the evening. I consider it a utility strain, as no matter what time of day or activity, Honeycomb can potentialy help improve it.
Honeycomb Lineage
Terpenes and Cannabinoids
The user experience may differ. These are user reports of their experiences and an explanation of terpenes and their purported effects from scientific studies, not medical claims. Remember that terpene and cannabinoid profiles can also change from grower to grower and crop to crop.
Major Terpenes
Caryophyllene: Blood Pressure Relief, Pain Relief, Antioxidant, Anti-Inflammatory, IBS, Anti-Anxiety, Anti-Depression
Myrcene: Sedative, Pain Reducing, Anti-Depression, Anxiety Reducing, Anti-Stress, Anti-Tumor
Limonene: Appetite Suppressant, Ant-Cancer, Immunoboosting, Gall Bladder Health, Indigestion, Anti-Anxiety, Insulin Resistance, Pain Relief, Anti-Inflammatory, Energizing, Anti-Depression, Stress Relief, Antifungal, Antibacterial, Heartburn, and Gastric Reflux
Cannabinoids
THC – 20.5%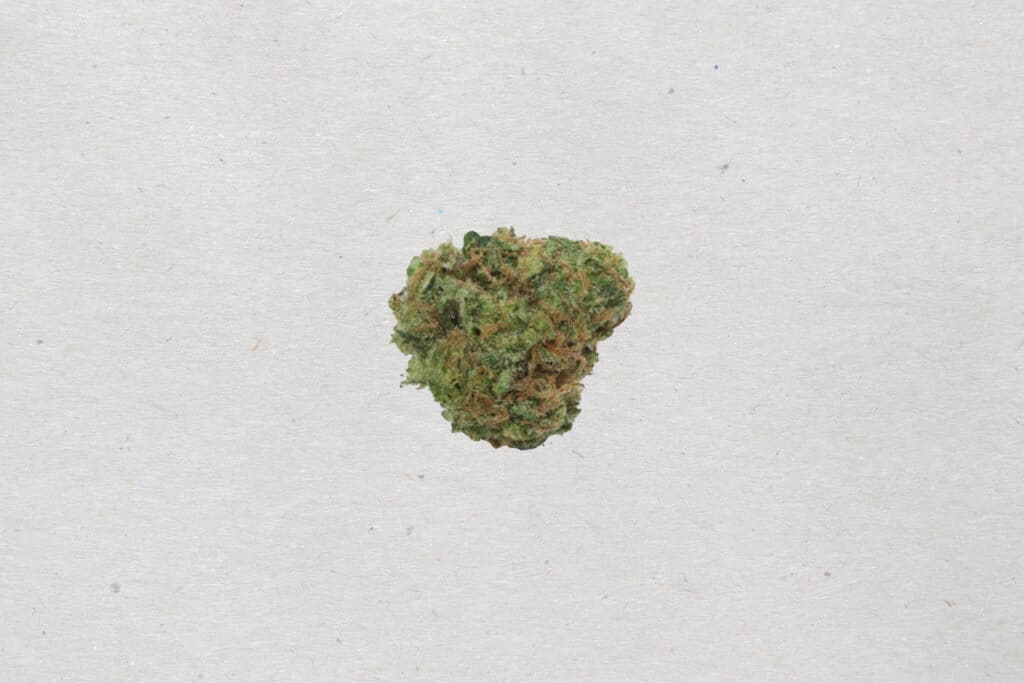 Review and Scores
Appearance: 10 – The bud had light green and yellow leaves, a standard for this strain. The buds look like they would be slightly fluffy in a 3.5g jar; as a sample, I got the gram in a bag, so a little flattened, but not enough to not be able to see what it was. The bud was a little spongy, as desired, with a slight trichome frosting. It looks like a honeycomb, or the bud in my bag did.
Aroma: 10 – Sweet honey, slight yeasty oat backbone, and citrus tinge.
Flavor: 10 – Same as the aroma; however, the honey, oat, and citrus flavor delightfully linger in the mouth. Similar flavor to a certain breakfast cereal with a bee and some "honey nut" flavors.
Effects: 10 – I felt stress relief and relaxation all day long while testing this one on a day I had nothing to do. Morning, Noon, or Night, Honeycomb is a strain that can accommodate any time of your day. 
Final Score out of 10: 10 – Must Have
The Final Puff
Honeycomb is a delicious cultivar that delivers a sweet honey inhale and a little oat exhale with a complimenting aroma. The effects are very chill and moderately stoney, but you can still function and go about your day. Overall, the results were pleasant, satisfying, and long-lasting. Of course, this is my experience, and yours may be different. Dewey continues to do a great job with their flower, always working to improve their phenotypes to deliver a phenomenal end product. They constantly obsess over doing better from seed to flower, and it shows. I do not often give a 10 out of 10, but Honeycomb deserves it. Dewey is a company we continue to carry at The White Rabbit, so do yourself a favor and pick up some Honeycomb the next time you come in. You will thank yourself and me that you did.
Until next time, stay healthy and always take the "high" ground! ~ TerpzChaser
Other great Dewey Strains!