GGlue Strain Review | Rescue Cannabis by Ladera Farms
GGlue Strain Review | Rescue Cannabis by Ladera Farms
GGlue by Rescue Cannabis is a cross of Chem's Sister, Sour Dubb, and Chocolate Diesel. It is a potent hybrid with the pungent aroma of earth and pine. This version has been grown outdoors, which provides an added herbal aroma and flavor as well.
Rescue Cannabis
Rescue Cannabis partners with the Humane Society of Southwest Washington and donates a portion of their sales with every bag sold. In addition to promoting pet adoption, they also help support local farms.
Their goal is to "deliver the wonderful possibilities of pet adoption to the cannabis community, while in turn contributing to the livelihood of local farms." What's not to like about promoting pet rescue adoptions and supporting small local farms?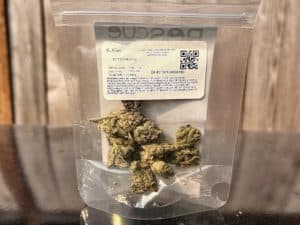 GGlue Terpene Profile and Potential Effects
User experiences may vary. These are not medical claims, but rather reported experiences from other users and an explanation of terpenes and their alleged effects from scientific studies.
Terpene profile: Potential Effects | Aroma/Flavors | Present In | Other Cultivars
Caryophyllene: Anti-Oxidant, Anti-Inflammatory, IBS, Anti-Anxiety, Anti-Depressant | Spice, Musk, Funk, Warm, Diesel | Black Pepper, Cloves, Cinnamon | Original Glue, Purple Punch, Candyland
Limonene: Antibacterial, Antimicrobial, Antifungal, Anti-Inflammatory, Anti-Proliferative, Anxiolytic, Gastro-Esophageal Reflux, Immunostimulant | Citrus, Bitter | Citrus Fruits, Pine, Juniper | Dirty Girl, Cookies and Cream, Seatown Lemon Haze
Sabinene: Anti-Inflammatory, Anti-Fungal, Antimicrobial, Antioxidant, Antibacterial | Woody, Spicy, Peppery | Black Pepper, Nutmeg, Carrot Seed Oil | Super Silver Haze, GG4, Northern Lights
Humalene: Sedative, Anti-Inflammatory, Pain Desensitizer, Pain Reliever, Anticarcinogenic, Antibacterial | Earthy | Hops, Cloves, Sage | ATF, GCS, Bubba Kush
Aroma and Taste
Spicy, herbal, citrus, skunky… all words I would use to describe what I experienced with this strain. Initially, there were a few GG terpenes detected in the aroma. However, after 24 hours on a Boveda pack, the terpenes really started to breathe. The same experience occurred with the flavor.
Physical Effects
There are numerous GG phenotypes available, some hybrid and some Indica. This is definitely a heavy Indica leaner. This one hits fast and hard, with that heavy Indica blanket wrapping around you as the effects take hold.
A few rounds with this phenotype of GG, and I felt compelled to go back inside and sit on the couch and watch some TV, quickly followed by a strong desire to go to bed. This is a great nighttime strain in every sense.
The Final Puff
The last couple of reviews have been on budget-friendly weed, and to be honest it was a bit of a learning experience for me. Good weed can be found regardless of price, and with some curiosity and trying out something outside of your comfort zone, you might be able to find a gem at a budget price!
Don't let the dry and crispy buds scare you away, ask your budtender for more information before passing judgement. Some time on a Boveda pack will rehydrate and bring the terpenes back to life with the majority of the buds.
GGlue by Rescue is a great strain that could potentially relieve your aches and pains and get you in great headspace to wrap your evening up. Plus, with the added benefit of supporting the Humane Society of Southwest Washington and supporting local farms, it makes Rescue a definite purchase on my rotating list.
Stop by the White Rabbit today and try them out. You will not be disappointed!
Until next time, stay healthy and always take the "high" ground! ~ TerpzChaser
Other great strains to try: