Clearly Spin Pro cartridge vaporizer | Review
Clearly Spin Pro vape pen is a compact and efficient vape battery with adjustable voltage settings. With the Clearly Spin Pro, you are all set for a variety of vape cartridges. So, this Clearly vape battery accommodates most carts, not including the Pax style pods.
What to like about the Clearly Spin Pro terpene vape
Lots to like about the Clearly Spin Pro. The thread adapters conveniently turn the carts into magnetic connections. Since the cart actually tucks into a metal "sleeve" on the side of the battery, it naturally protects the cart. Any one that has broken a pen style cart in their pocket knows this is a plus.
Featuring compact design
Instead of an elongated "pen" or "cigarette" style battery, this is a small rectangular battery, and the benefits are apparent immediately. About as slim as a cellphone, and about the same size as a classic Zippo lighter. The heft and weight of it conveys solid state design, built to last.
Variable voltage settings with the Clearly Spin Pro
With the ability to spin the voltage from 2.0 to 4.0 volts, you gain control over you hit and dial in the carts optimal setting. The ability to change the voltage gives you complete control over the hit. The battery takes about 2-3 hours to charge. Seems like a lot, but the advantage is it holds power for hit after hit.
More features
Easy to ready lighting signals the battery strength. You won't find yourself asking if the charge light is looking dimmer and wondering if it is time to charge. In this case, red, yellow, and green lights make it easy to see. You also will find a handy little charging cable included in the box.
The drawbacks of the Clearly Spin Pro terpene vape pen
Like any and every vape battery, you need to use caution about storing it in your pocket. The best way to go is using a small plastic, or even leather case. Avoid metal. There is a reason batteries are not allowed on planes. It is rare, but vape batteries can sometimes spark and ignite.
On the bright side, I looked for any instances of it happening with the Clearly Spin Pro terpene vape but couldn't find any.
White Rabbit Cannabis Logo Clearly Spin Pro
Of course, one of the coolest features, we have the White Rabbit Logo included on the Clearly Spin Pro terpene vapes! It looks pretty sweet on the side, with a sunset style silhouette behind it. Very classic and fetching.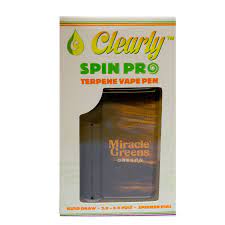 More Cannabis Product Reviews